Dr. Sharon L. Contreras is passionate about providing high-quality education to each child with the goal that every student graduates college and career ready.
Dr. Contreras began her career as a high school English teacher before serving as a principal, area superintendent and assistant superintendent in Rockford, IL. Dr. Contreras has also served as the Chief Academic Officer for the Clayton County Public Schools in Georgia and in the Providence Public Schools in Rhode Island. Through the development of high-performing teams, her work in those school districts resulted in improved graduation rates and access to rigorous academic programs for all students.
In 2011, she became the first woman of color in New York State's history to serve as superintendent in one of the state's largest districts when she took over the Syracuse City School District. Since that time, she has increased student access to challenging academic courses, expanded career and technical education options and improved low-performing schools. Under her leadership, Syracuse established 16 new career pathways for high school students, opened a school for gifted elementary students and opened two new high schools to provide students with the opportunity to earn associate degrees in electrical engineering technology, manufacturing technology and health-related fields.
To get students to take advantage of those opportunities, they need to be in school. Dr. Contreras, in conjunction with Say Yes to Education, expanded its Promise Zone program, providing critical supports and resources to students with social, emotional or behavioral challenges. She introduced a new Code of Conduct and was recently invited to participate in a White House convening on school discipline and briefed members of the U.S. Congress on implementing fair disciplinary practices in schools.
Dr. Contreras also worked with the New York state legislature to secure $300 million in construction funding to create 21stcentury learning environments and negotiated a landmark contract with the teachers' union, making SCSD teachers the highest paid in the region over a five-year period. Contreras also has worked to address students' social, physical and emotional needs by expanding partnerships with the community and bringing Breakfast in the Classroom and universal free breakfast and lunch programs to all Syracuse schools.
Dr. Contreras has won awards for her civic work and leadership including: YWCA Champion of Opportunity Award; The Network Journals 25 Influential Women in Business Award; Interdenominational Ministers' Alliance Drum Major for Social Justice Award; Nosotros Radio Latina of the Year; Delta Sigma Theta Sorority's Fortitude Award; Southwest Community Health Center Leadership Award, Upstate University Hospital Community Leader Award; and the NAACP Freedom Award.

Dr. Contreras is a proud and active member of The Links Inc. and Delta Sigma Theta Sorority Inc. She was raised in Uniondale, N.Y. by her parents James and Elizabeth Contreras with her nine brothers and sisters. She has earned degrees from Binghamton University and the University of Wisconsin-Madison.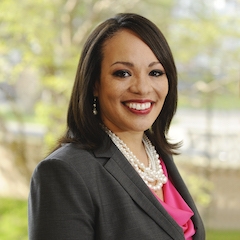 Title:

Superintendent
Department:

Guilford County Schools

Email address: Email me

Phone: (336) 370-8992
Office address
712 N. Eugene St.
Greensboro, NC 27401