Dr. Jennifer Hefner, Superintendent, Alexander County Schools
Dr. Jennifer Hefner has served as Superintendent of Alexander County Schools since August 2014. Prior to the superintendency, she served associate superintendent from 2012-2014.
Dr. Hefner's 30-year career in Alexander County began in 1988 serving as a teacher assistant and bus driver at Sugar Loaf Elementary School. She taught math from 1993 to 1998 at Bethlehem Elementary and from 1996 to 1998 part-time at the Alternative Learning Program at Alexander Central High School. She served as principal at Bethlehem Elementary School for nine years and as assistant principal for one year. Dr. Hefner also served as Curriculum Specialist at Bethlehem Elementary. She was a central office director of Elementary Curriculum, Student Services (K-12), Title 1 and led the Common Core and Essential Standards Implementation. She served as interim assistant superintendent from March 2012 until July 2012.
In 2012, Dr. Hefner was selected as the local, regional, and state Administrator of the Year for the North Carolina Association of Educational Office Professionals.
Dr. Hefner completed her Doctorate in Educational Leadership from Appalachian State University in 2011. She also holds an Educational Specialist Degree and a Master's in School Administration from Appalachian State University. She graduated Magna Cum Laude from Lenoir-Rhyne College with a Bachelor of Arts Degree in Elementary Education. She attended Catawba Valley Community College in the Pre-liberal Arts Program. She is a 1986 graduate of Alexander Central High School.
Dr. Hefner has never been a traditional college student, as she has always worked a full-time job while attending college classes in the evenings and on weekends. She believes her strong work ethic and ability to dream and set goals have been helpful in her professional journey. Dr. Hefner is keenly aware that positive relationships make all the difference and she also credits the "Champions" in her life (most of which are educators) for her success. She strives to be the same kind of "Champion" for all the children in her public school system. Her ultimate goal is to provide opportunities to ALL students that will enable them to reach their goals and lead a happy and fulfilling life after graduation.
Dr. Hefner is number five in a succession of seven children and grew up on a small farm in the western part of Alexander County. She is a lifelong resident of Alexander County and is a product of the Alexander County School System. Her two greatest achievements include earning her doctorate and being named the first female superintendent in Alexander County. Her mother was by her side to share both accomplishments.
Dr. Leslie Dula McKesson
Dr. Leslie Dula McKesson is a retired community college educator and administrator with more than twenty-eight years of experience with the North Carolina Community College System. From 1989 to 2018 she served in the roles of Paralegal Technology Instructor, Paralegal Program Coordinator, and Dean of Business, Public Services and Academic Support at Western Piedmont Community College in Morganton, North Carolina.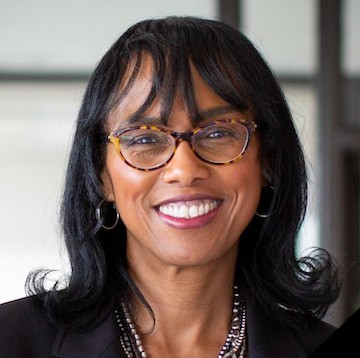 As Dean, Leslie provided visionary leadership for twelve Associate of Applied Science degree programs and oversaw additional programs of study leading to diploma and certificate completion options. She also held responsibility for multiple institution-wide initiatives, including distance learning policy, procedure, and oversight; student testing, tutoring, and learning support; library and media services; the Quality Enhancement Plan, and professional development for faculty and staff. Leslie also led the College in its early efforts to comply with Section 504 Accessibility standards.
Considering herself "repurposed" rather than "retired," Leslie serves as an adjunct instructor of critical and education studies for Appalachian State University and as a leadership instructor for the Graduate School of Lenoir Rhyne University. She is an active leader on several community boards and has continued to work with Western Piedmont Community College on local initiatives, including co-organizing a ground-breaking Symbols of the South Symposium earlier this year that presented historical and sociological perspectives on Confederate iconography.
Leslie's work is founded on critical scholarship and her interests center matters of race, diversity, and inclusion. In her current role as Executive Director of the new non-profit SELECT 2000, she leads the organization's efforts to bring people of color to administrative and professional positions in Burke County and surrounding areas and to promote cultural inclusivity.
Leslie is a Commissioner with the State African American Heritage Commission, where she works with the North Carolina Department of Natural and Cultural Resources to preserve and promote the history and culture of the State's African American citizens. This appointment was based, in part, upon her own work to preserve her family history that culminated in an award-winning book titled"Black and White: The Story of Harriet Harshaw and Squire James Alfred Dula."
Leslie completed her undergraduate degree at the University of North Carolina at Chapel Hill. After working for several years as a paralegal she began her graduate studies at Appalachian State University where she completed Masters, Education Specialist, and Doctor of Education degrees. She was honored to receive Appalachian's 2017 Naylor Outstanding Dissertation Award for her study"Determined to Rise: A Conceptual and Counternarrative Analysis of the Higher Education Attainment Experiences of Three African American Men," and she has received numerous community service awards.
Leslie is married to George. They have seven adult children and fourteen grandchildren and live in Morganton.