2020 Keynote Speakers
Dr. Kellie Carter Jackson, Assistant Professor, Wellesley College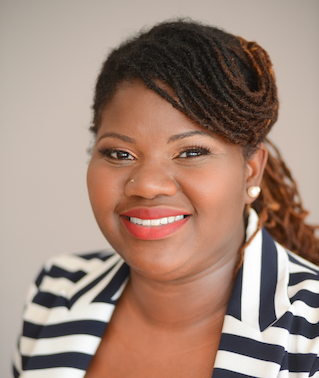 Kellie Carter Jackson is the Knafel Assistant Professor of the Humanities in the Department of Africana Studies at Wellesley College. Carter Jackson's research focuses on slavery and the abolitionists, violence as a political discourse, historical film, and black women's history. She earned her B.A at Howard University and her Ph.D from Columbia University working with the esteemed historian Eric Foner. Her book, Force & Freedom: Black Abolitionists and the Politics of Violence. Force and Freedom was a finalist for the MAAH Stone Book Prize Award for 2019.
Carter Jackson is also co-editor of Reconsidering Roots: Race, Politics, & Memory, the first scholarly collection of essays devoted entirely to understanding the remarkable tenacity of Alex Haley's visual, cultural, and political influence on American history. Together, Ball and Carter Jackson have curated the largest collection essays dedicated to the history and impact of Roots. Carter Jackson was also featured in the History Channel's documentary, Roots: A History Revealed which was nominated for a NAACP Image Award in 2016.
Her essays have been featured in The Washington Post, The Atlantic, The Los Angeles Times, NPR, Time, The Conversation, Boston's NPR Blog Cognoscenti, Black Perspectives, and Quartz. She has also been interviewed for her expertise for MSNBC, SkyNews (UK) New York Times, PBS, The Huff Post, the BBC, C-SPAN, Boston Public Radio, Al Jazeera International, Slate, The Telegraph, Reader's Digest, CBC, and Radio One. She has been featured in a host of documentaries on history and race in the United States. Carter Jackson is also a commissioner for the Massachusetts Historical Commission, where she represents the Museum of African American History in Boston. She currently resides in the town of Sherborn, MA with her husband and three children.
Dr. Jo Allen, President, Meredith College
Dr. Jo Allen, '80, is the eighth president of Meredith College, a top-tier nationally ranked institution and one of the largest private colleges for women in the US. She is the first alumna to lead the 128-year-old institution.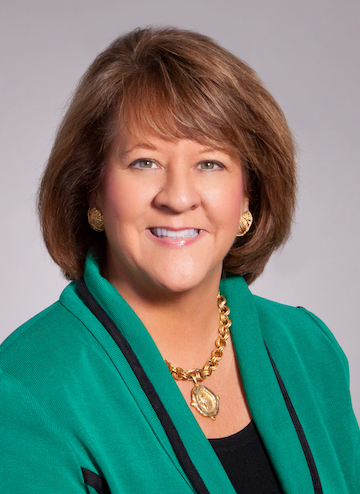 President Allen led a collaborative, community-wide process to develop a comprehensive strategic plan, Meredith Forever. In the seven years of the plan's implementation, Meredith has exceeded enrollment and retention goals; raised more than $90 million in its largest fundraising campaign ever; earned the highest rating from the U.S. Department of Education for financial stability; enhanced its bond rating from Standard and Poor's; launched the Going Strong brand; established StrongPoints® (the College's signature coaching and personal advising program); and completed significant renovations on buildings and infrastructure across campus.
Dr. Allen earned her B.A. from Meredith, her M.A. from East Carolina University, and her Ph.D. from Oklahoma State University. She served as tenured associate professor of English and as administrator at ECU and at NC State University. Before her return to her alma mater, Allen served as senior vice president and provost, and tenured professor of English, at Widener University, where she oversaw academic and student affairs among eight colleges and schools on four campuses in two states.
She has been the featured speaker and has published and presented in hundreds of regional, national, and international scholarly venues. She has written and edited several books, including one that has won two national awards.
She has been recognized by Meredith College as a Distinguished Alumna and as an Outstanding Woman of ECU.
In service to higher education and her community, Dr. Allen currently serves as Chair of the Board of the National Association of Independent Colleges and Universities (NAICU) and as former Chair of its Accountability Committee and its Administration Committee; as Treasurer of the North Carolina Independent Colleges and Universities (NCICU); as a board member of the USA South Athletic Conference; and on the Presidents' Council of the Cooperating Raleigh Colleges. She has formerly served as an Executive Board member of the Association of American Colleges of Teacher Education; as a member of SACSCOC's board of directors, as a member of the Executive Board of the North Carolina Campus Compact; and as a member of the Board of Advisors and Board of Directors of the Raleigh Chamber of Commerce. She is a former Commissioner of the Middle States Commission on Higher Education and past president of the Association of Teachers of Technical Writing.
Dr. Pamela Senegal, President, Piedmont Community College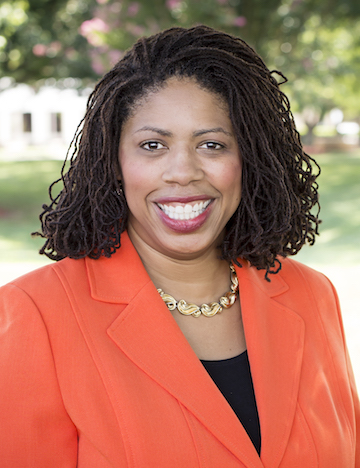 Dr. Pamela Gibson Senegal is the current president of Piedmont Community College. She previously served as the vice president of Economic and Community Development at Central Carolina Community College. She brings 20+ years of higher education leadership, business experience, and community service to her position.
She has traveled to 29 countries, first as the child of a military officer, then as a study abroad participant, and most recently as a professional looking at migration patterns and apprenticeship programs in Mexico and Germany respectively.
Senegal served as dean of Career and Technical Programs, Assistant to the President for Hispanic Community Outreach and enjoyed teaching at Durham Technical Community College (DTCC).
Senegal's academic career also includes serving as Central Piedmont Community College's (CPCC) Executive Director for the Services Corporation, a 501C3 dedicated to funding entrepreneurial ideas of faculty and staff. At CPCC, she also held positions as associate dean and computer training director.
Prior to becoming a community college professional, she worked as the information technology training manager at Glenayre and change management analyst at Anderson Consulting.
Senegal also brings extensive community involvement to her position, including current service on the Economic Development Commissions for both Person County and Caswell County, the Person Memorial Hospital Board, and Foreign Trade Zone #93 Board. She has previously served on the boards of the Ronald McDonald House of Durham, the Dispute Settlement Center of Carrboro, the Charlotte Sister Cities Board and was a founding member of the Charlotte Dress for Success chapter.
Senegal holds undergraduate degrees in Political Science and Spanish, a masters in Public Administration and a doctorate in Adult and Community College Education, all from N.C. State University. She also completed a Training and Development certificate from UNCC/and the American Society for Training and Development.
Senegal has three sons, two of whom are Eagle Scouts, is active in her church and enjoys reading and travel. She is the author of Self-Care Strategies for Women, to be released this fall.
Dr. Sharon Contreras, Superintendent, Guilford County Schools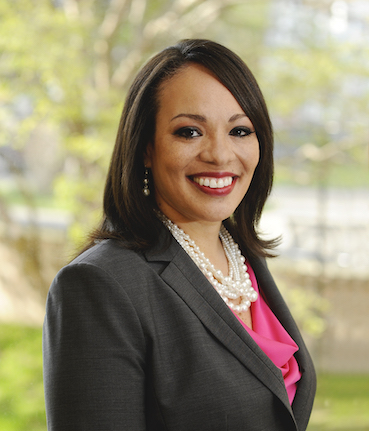 Dr. Sharon L. Contreras is passionate about providing high-quality education to each child with the goal that every student graduates college and career ready.
Dr. Contreras began her career as a high school English teacher before serving as a principal, area superintendent and assistant superintendent in Rockford, IL. Dr. Contreras has also served as the Chief Academic Officer for the Clayton County Public Schools in Georgia and in the Providence Public Schools in Rhode Island. Through the development of high-performing teams, her work in those school districts resulted in improved graduation rates and access to rigorous academic programs for all students.
In 2011, she became the first woman of color in New York State's history to serve as superintendent in one of the state's largest districts when she took over the Syracuse City School District. Since that time, she has increased student access to challenging academic courses, expanded career and technical education options and improved low-performing schools. Under her leadership, Syracuse established 16 new career pathways for high school students, opened a school for gifted elementary students and opened two new high schools to provide students with the opportunity to earn associate degrees in electrical engineering technology, manufacturing technology and health-related fields.
To get students to take advantage of those opportunities, they need to be in school. Dr. Contreras, in conjunction with Say Yes to Education, expanded its Promise Zone program, providing critical supports and resources to students with social, emotional or behavioral challenges. She introduced a new Code of Conduct and was recently invited to participate in a White House convening on school discipline and briefed members of the U.S. Congress on implementing fair disciplinary practices in schools.
Dr. Contreras also worked with the New York state legislature to secure $300 million in construction funding to create 21stcentury learning environments and negotiated a landmark contract with the teachers' union, making SCSD teachers the highest paid in the region over a five-year period. Contreras also has worked to address students' social, physical and emotional needs by expanding partnerships with the community and bringing Breakfast in the Classroom and universal free breakfast and lunch programs to all Syracuse schools.
Dr. Contreras has won awards for her civic work and leadership including: YWCA Champion of Opportunity Award; The Network Journals 25 Influential Women in Business Award; Interdenominational Ministers' Alliance Drum Major for Social Justice Award; Nosotros Radio Latina of the Year; Delta Sigma Theta Sorority's Fortitude Award; Southwest Community Health Center Leadership Award, Upstate University Hospital Community Leader Award; and the NAACP Freedom Award.

Dr. Contreras is a proud and active member of The Links Inc. and Delta Sigma Theta Sorority Inc. She was raised in Uniondale, N.Y. by her parents James and Elizabeth Contreras with her nine brothers and sisters. She has earned degrees from Binghamton University and the University of Wisconsin-Madison.